How I can support you and your cat
Does your cat have behaviour issues? Are you struggling to cope with a cat who is having problems that are affecting you or your family? It's time to seek a qualified professional and book a cat behaviour consultation to helping your cat – and you – enjoy your time together.
VIP Kitten – Online Support & Training
New kitten and not sure what to do next? I offer an Online Support & Training subscription service, which provides new owners with either 6 or 12 months of regular contact with me to give you peace of mind that the advice you are going to get will not only be personalised, but also qualified.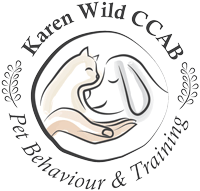 Why am I a better choice for
cat training and behaviour help?
As a registered professional, I follow a strict code of practice aiming to maintain your cat's – and your – welfare and everyone's safety too.
Vet recommended. I take behaviour cases on Vet referral meaning that your cat has a team approach to their care. Cats often hide medical issues, but their behaviour is the clue. I work with your Vet and take this into account with treatment plans. If your cat is well, your Vet can confirm this so that you truly know I am working together towards the root of the problems.