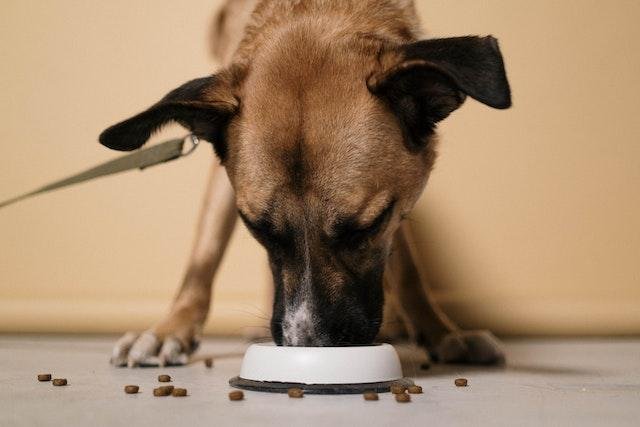 It's a hot topic and we always want to give our dogs the very best in life, so today TV Vet Joe Inglis tells us about the benefits of natural pet foods. Why not make an early New Year's resolution to look at what your pet is eating – and maybe make a further commitment to their health? You could do like Joe – decide to start your very own brand to make sure!
The word 'natural' is used increasingly in the pet food industry, but what exactly does it mean – and are natural foods really that much better for your pets?
Pet foods described as 'natural' contain nothing but simple, natural ingredients – with no artificial additives such as colours, preservatives or flavours. By contrast, most traditional complete pet foods contain a range of artificial additives. For example, artificial colours are often used, but not for the benefit of the pet – your dog isn't impressed by bright red kibbles or green synthetic peas, they are all there to convince you the pet owner how delicious and healthy the food is!
Doing without these additives demands more of the natural pet food producer, since creating tasty foods that stay fresh without additives is a real challenge. But it's a worthwhile challenge as the health benefits of eating a diet free from artificial additives are very real. Synthetic preservatives, flavours and colours have been implicated in all sorts of health scares from behaviour to cancer, and there is very real evidence for the dangers they pose.
As a vet, I see pets on a regular basis with health problems related to their diet, and it's not just in my surgery – many pet health professionals agree that additives in pet foods can cause problems.
Obviously, avoiding these dangerous additives is the best way to keep your pet healthy, but it's not just what's not in natural foods that's so good – it's also what is in them. Most pet foods contain surprisingly little of the quality ingredients you might expect such as meat, relying instead on chemicals to make the foods acceptable to pets, whereas natural pet foods need to use a much higher standard of ingredients as the pets can taste exactly what is in the food.
Rather than sit back and complain about this, Joe made a positive decision to produce his own range of natural pet foods, inspired by his own pets.
"I created the recipes for Joe & Jack's and Joe & Jill's, named after my faithful collie cross Jack and mischievous tabby cat Jill. I set up my own natural pet food company called Pets' Kitchen, and my foods are all completely natural and contain no artificial chemicals"
"I've found that by packing my recipes with top quality ingredients, there is no need to use any artificial chemicals and pets not only prefer the fresh, natural taste – they also do amazingly well on my foods and owners really notice the difference".
Pet's Kitchen natural dog and cat foods contain at least 26% real meat along with other natural ingredients such as rice, seaweed, brewer's yeast and yucca extract.