Vet Behaviour Referrals for Dogs & Cats
I provide a professional and caring referral service for Veterinarians whose clients present with dog or cat behaviour issues.
I am a well-respected Certificated Clinical Animal Behaviourist (dogs), Full Member of the Association of Pet Behaviour Counsellors (dogs/cats) as well as being an Animal Behaviour and Training Council registered Clinical Animal Behaviourist (dogs/cats) and Animal Training Instructor. I am known for being straightforward, caring and supportive, not just for our pet and owner clients, but our pets' veterinary teams too.
I work with you, the referring Vet, as a supportive team for the client. I work both remotely and in person to:
Improve management of pets during and in preparation for Vet visits
Assist with a wide range of behaviour problems ranging from new kitten or puppy through to severe aggression
Work with staff, training on emergency behaviour advice, referral processes, and running successful and sensible Puppy parties
Provide reliable, qualified, experienced professional behaviour and training support for your clients
I have many years experience handling behaviour cases at all levels including cases of severe aggressive behaviour in both dogs and cats, separation anxiety, toileting issues and a wide range of other pet problems where clients need clear guidance. I have presented at BSAVA local events, national BVNA congress, write for Veterinary Practice Today and have been published lead author in Companion Animal Journal Vol 21. No. 9 Clinical Forum on Resource Guarding.
Are you a behaviour nurse, or have an interest in behaviour? I provide full supervision and mentoring placements. Contact me for more information.
How I work:
I take a full history, advises on treatment plans, provides ongoing client support and liaise with you as Veterinary practitioner so that the pet gets the very best all-round care. Cases may be seen online via live video, some are followed up in-person.
Behaviour Referral Process: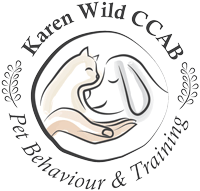 How can this behaviour referral service
help my clients and their pets?
I do my very best to be as honest about risk and welfare as possible, guiding clients to make the essential changes that are involved with helping a behaviour problem.
I hold very high standards of care and welfare at the core of my practice. I recognise that pet care is often down to their people – and work with them to ensure a staged process of recovery – wherever that is possible.