Music by Louis Wild ©Copyright WildMusicStudio 2020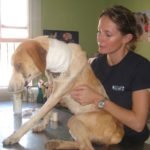 Emma Milne is a Vet, author and animal welfare enthusiast.
Emma qualified from Bristol in 1996 and was featured in BBC's hugely popular Vets In Practice series for 7 years. Emma is frequently on TV and radio and writes for many magazines as well as her own books. Emma is passionate about animal welfare and has campaigned for many things. Her main areas of interest are pedigree health issues, captive wild animals and promoting responsible pet ownership.