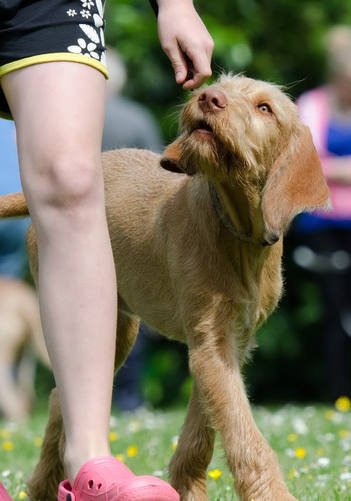 Join our puppy training classes – for a family dog you can take anywhere
Do you want the very best start in life for your puppy?
Do you want a high quality, personal and friendly puppy class with a qualified, experienced trainer and behaviourist?
Do you want to learn more than just 'sit', but how to understand and teach your puppy at every life stage?
Our puppy classes are designed with future behaviour in mind. So much more than tricks, or 'Sit, Stand, Down'! We want you to have a family dog you can take anywhere.
Karen has more than twenty years experience of training dogs of all ages and our unique syllabus is aimed to help you build a calm, happy and friendly family dog.
You are in the perfect place to teach your new puppy about how to behave in the human world. We guide you on bonding with your puppy in the best way possible, using a clear and easy-to-follow method.
Your puppy's learning journey with us
We take you and your puppy through six levels of training, from Puppy to Progress to Advanced
Each level follows our exclusive training syllabus designed for a calm, happy family dog.
We have a lot of fun, and we also teach you how to be a great puppy owner!
Puppy Classes
Our classes are the perfect place to teach your puppy, or growing dog, all the life skills they need. We all want a dog that will fit into our lifestyle safely and happily. Puppy and adolescence are important times for training. We are here to guide you through and help you make it all fun for everyone.
Progress Classes
For our Puppy graduates we offer follow-on Progress classes that build up throughout adolescence and beyond. Adolescence is a tricky time for dogs and families. We want to help you keep them learning and developing without causing problems.
Puppy Education for Life
with Karen Wild CCAB

A New Puppy! Congratulations. Exciting times ahead!
We are delighted to be able to help you when it matters most. Your puppy is growing and developing fast, with plenty of challenges to come. Pups are part of the family, and we want you to enjoy every moment.
We are here to guide you through pitfalls and preparations, and we deal with individual needs. Nipping and mouthing, housetraining and obedience, life skills and of course, adolescence too.
Puppy Advice sessions
Need specific advice? Book a one to one session with Karen.
Start to help your family pup today!
Live Online Consultation
Get help with all your puppy questions and concerns via live video consult with Karen.
We can offer these quickly, so no need to wait.
Effective, convenient and covid-safe too.
In-Person Visit
We can offer in-person visits to your home
(Covid-19 restrictions apply)
Helps you discuss the best home set-up for your pup, helps us assess your puppy in-person.
We can demonstrate hands-on training techniques too!
TESTIMONIALS
"Karen is great, she really helped me get Mac to start behaving, I can't recommend her enough. Mac now walks happily on his lead, doesn't bark at other dogs, nor does he jump up at strangers."
– Alex McGibbon
Puppy Subscription
Our new, popular service provides puppy owners with either 6 or 12 months of regular support from Karen.
A series of live video chat consultations with qualified, tailored advice as your puppy grows.
Email support whenever you need it!
Puppy Subscription is the cost-effective way to feel confident throughout your pup's crucial early months.